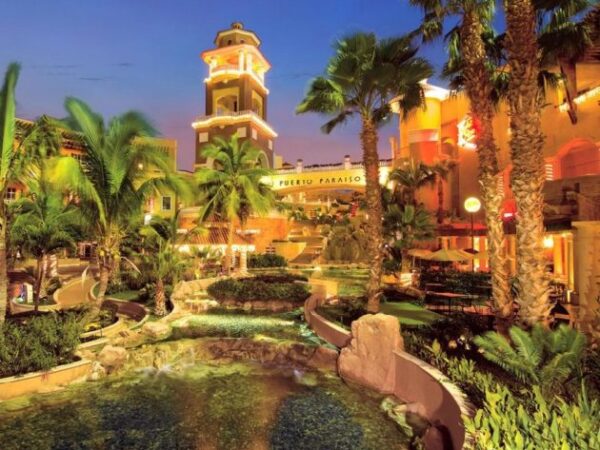 |
Find in Plaza Puerto Paraiso Mall a collection of some of the best brands to make tour vacations a even greater experience. The largest shopping mall in los Cabos Mexico located in Cabo San Lucas right in the Marina.
The best stores at Plaza Puerto Paraiso Mall in Cabo San Lucas
This large shopping mall, in the hearth of Cabo San Lucas, right in a corner of the Cabo Marina, where you can find all kind of amenities for your everyday life, or to enhance your vacations.
As well as a option for some entertainment and shopping in this Cabo Mall.
Lot of shopping options from luxury brands and premium clothesline, as well as lot of souvenir stores, restaurants a Movie Theater, Bars and even some Luxury Real Estate options on site with the Puerto Paraiso Los Cabos Residences.
This is the first Shopping Mall in Los Cabos, and is constantly growing and updating, to bring the best experiences for all their visitors.
You can find all kind of services like atm, banks, money exchange, pharmacies.
Shopping from souvenirs to beach and casual clothing.
Find Shopping Center Plaza Puerto Paraiso Los Cabos at the Cabo San Lucas Marina
Convenientelly located at the Marina next to Hotels and Restaurants, in some of the most transited streets in town.
And it is some of the most visited places in Cabo, from vacationers taking a break from all the local attractions, that want to have some shopping time, grab a coffee, get a nice bite or watch the latest movie.
It is next to Luxury Avenue, a place where premium brands and products can be found, just like any duty free store in any cosmopolitan destinations in the world.
Any season is great at Plaza Puerto Paraiso Los Cabos Mall
While traveling, getting to the local attractions, it is hard not to get to the mall.
Is a great choice for a break while on vacations, they host some seasonal festivities and events
Find the best Plaza Puerto Paraiso Shopping Mall and Luxury Avenue in Cabo San Lucas Mexico
This Cabo Mall is a great choice for shopping for clothing or souvenirs.
Premium boutique shopping from jewelry to perfumerie and fragances, as well as designer clothing stores.
Going out eating in a restaurant with all kind of international options.
A great place to sit and relax with a great coffee, crepes or icecream.
Watch the latest movies in Cinemex Platino.
Hotels near Puerto Paraiso Mall
Los Cabos Puerto Paraiso Mall Cabo San Lucas Map