Find Where is Los Cabos Mexico and all related in this Travel Guide,  your source of great information of what is waiting for you in this great Resort destination by the Pacific and the Sea of Cortez.
There are many options to Accommodate you, so you can have the best time in your visit to this fine destination, Many options go from great and fancy Resorts, Boutique Hotels, small budget Hotels, inns and Bed and Breakfast.
There are lot of activities to fully enjoy this places starting with some basic Sightseeing Tour to see all the beauties that surrounds, some sports like Sport Fishing and Golfing, and some exciting Canopy Tours.
Of course if you want to relax a little and go to watch a movie there are some Movie Theaters.
Find in this vacation guide, all you need to know and about this gorgeous destination.
Cabo is located in the Baja California Sur peninsula, a Mexican resort destination well known for its Ultra Luxury Cabo Resorts and fine dining, as well as spa resorts.
The Location in Baja California Sur, it is privileged for being a desert surrounded by the Ocean Pacific and the Sea of Cortez,
With some great vacation plans like All Inclusive Resort Cabo San Lucas Family Friendly , so you and your family can enjoy of some great vacations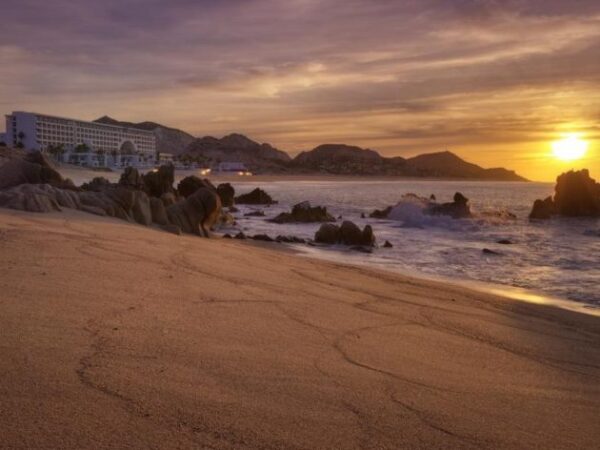 And also you can find great Vacation Rentals just to feel a little like home in a great Villa, or your own Apartment in a Condo.
Check by yourself which one feels better right for you that suits all your needs for your stay and have pleasant stay.
This is a Luxury Resorts destination, has plenty of that can easily match any desire for anydeal you are looking for, that will make the best time in Mexico.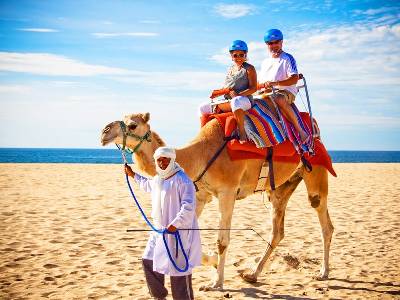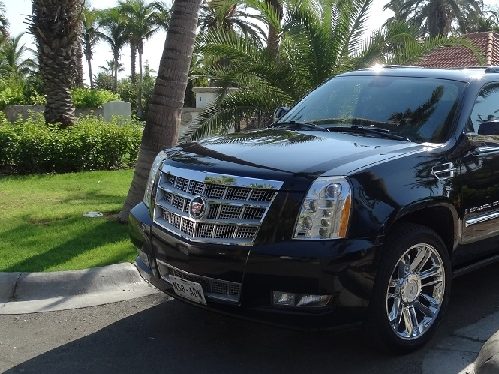 After choosing the destination, you may be looking for ways to get to your desired location.
For that is very important to find the right flight for you coming and going, moving around in
transportations such as Car Rentals, private transportations, shuttle services, taxis, etc.
Local travel agencies to help you with other services while in vacations, and in case needed, the use and location of local embassies, immigration, banks, hospitals and clinics.
Well known as the world's aquarium, by its vast marine species, it makes a unique place with lot of things to see and do such as snorkeling in the best places near San Jose del Cabo.
Here you can find a wide selection of the best places to stay in the best spots of Cabo, such as San Jose del Cabo Marina, Cabo San Lucas Marina as Well and popular places as beautiful beaches and also the brand new Cabo resorts.
Cabo San Lucas
The favorite place for excellence, where the most popular beaches, and the party begins. Cabo San Lucas is the place that has supported a greater development in the destination offering the widest range of tourism products and services.
San Jose del Cabo
The quiet and relaxed side closest to Cabo San Lucas, in which a wide variety of art galleries along with the best restaurants and several of the favorite bars you find.
San Jose del Cabo is wrapped in a quieter and more relaxed atmosphere that invites to relax in a top destination.
Todos Santos
The most bohemian town of south Baja in which a large number of artists have made their permanent residence, giving a special and artistic touch to Todos Santos that is distinguished in comparison to other places with large developments of hotels and resorts.
East Cape Baja
The quietest  away from the crowds and the big resorts, East Cape Baja offers a place different from the usual in this beach destination, where a great variety of picturesque towns and villages meet the flavor of old Cabo.
What would you find here?
Here we have a selection of what you may be interested in, Click in the one you are interested to read it in detail.
Resorts in Los Cabos Baja California
You will find in the best Resorts  for all tastes and all pockets, highlighting that in this destination are the most qualified and ranked worldwide as unique and best in its kind
Condo Vacation Rentals
A great way for accommodation are Condo Rentals for vacation, which are not as large as a house to a Villa, but enough to comfortably accommodate many of their guests, an ideal place to rent and feel like at home.
Holiday Villa Rentals
You will find the best Villa Rentals for holiday rental. for this season, with enough space for your whole family your group of friends.
They are located in the best locations with great amenities all the necessary services for a good vacation.
Cabo Bars and Nightlife
The fun is not for day and night in local Bars, with a wide variety of bars and clubs, enlivened by the best music and the best atmosphere, either starting early in a day club next to the beach, or its different night clubs located and in the main places this destination.
Los Cabos Mexico Sport Fishing
One of the main activities, which attracts many amateurs and professionals year after year, Sport Fishing was the main trigger of this destination, which thanks to its location and its great sport fishing in the region put it on the map as one of the best places to fish in the world.
Golf Courses in Los Cabos Mexico
A wide variety of golf courses are located in the destination literally from end to end, the best locations and most exclusive places offering beautiful views, and challenging courses that will truly be a delight for all golfers visiting Baja.
Las Cabo is popular for its Golf Courses, some are close from Cabo San Lucas downtown, some others along the Tourist Corridor as well as the San Jose Hotel zone.
Beaches in Los Cabos Mexico
The main attraction It surrounds all the capes that offer the perfect location, and the perfect setting facing the Sea of ​​Cortez and the Pacific Ocean.
In which its natural beauty of the Beaches makes this place in the south of Baja California one of the favorite places to vacation around the world.
Arch of Cabo San Lucas
This is the main attraction, and symbol of the destination, which is undoubtedly a must-see place to visit at least once when visiting Cabo San Lucas.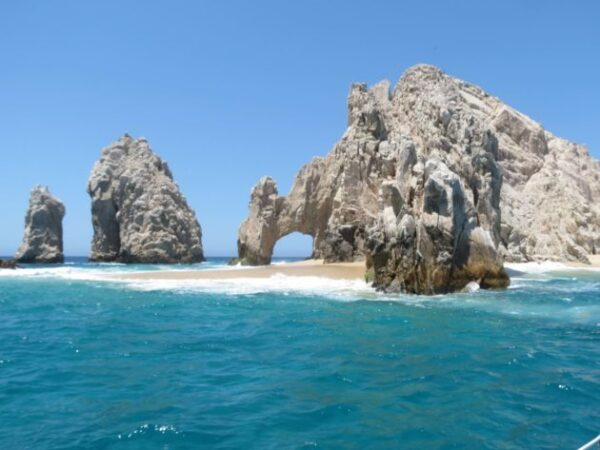 The arch of Cabo San Lucas joins the Sea of ​​Cortez with the Pacific Ocean, and a natural phenomenon occurs that makes the place sand and makes it possible to walk in the lower part.
In addition to that in the months of December to March is witness to the birth of thousands of whales that travel around this place.
Lovers Beach
The most famous and visited beach  because of the dune, which is next to the arch and both this beach and the rock formation, are must-see visits that can even be visited on the same tour.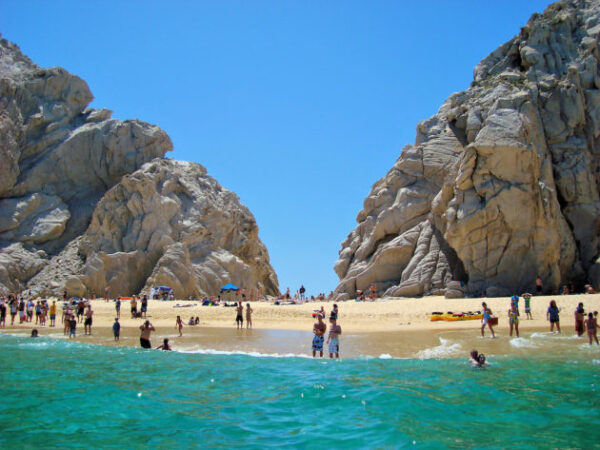 Where to eat and drink
What would it be a great destination without the best best food and drinks it can offer.
In this place you can find a very wide range of Restaurants starting from traditional Mexican Food, to
International such as Mediterranean, Italian, Greek, Chinese, Japanese, and of course, plenty of places to enjoy a great Coffee,
All of them made with high quality local products.
There are lot of Bars to sit back and relax as well as many Nightclubs to party while you are traveling.
Shopping
Most of the best products from the mainland Mexico can be found here to make an excellent souvenir like Handcrafts.
Tequilas and local Wines, Bakeries, Clothing, Jewelry, and many of the best international brands, mostly in Malls and Shopping Centers.
Do not hesitate in buying great products, for you, your family and friends.
Where is Los Cabos Mexico?
It is located in the Baja California Sur peninsula, a Mexican resort destination well known for its luxury resorts and fine dining, as well as spa resorts.
Check our Maps, you will find easily where Cabo San Lucas, San Jose del Cabo are located in the area, along with Restaurant, Spa Resorts for your delight, luxury Resorts and all kind of Hotels that suits all your needs.
Where is Los cabos Mexico on Map
This destination is two hours driving to La Paz Baja California Sur Mexico, a nice quiet city you can visit all the way along from the scenic route next to the Pacific Ocean or by the mountains close of the sea of Cortez by the LC Airport way.
In Los Cobos you can find Todos Santos, a small town with some nice hotels and boutique hotels inside an artistic Community here you can find the Famous Hotel California.
Flights to Los Cabos Baja California Mexico
You can access Cabo by air, it has two airports, a large international Airport located in San Jose del Cabo, and one small airport in Cabo San Lucas, mainly used for small planes, private charters and small commercial lines.
Top Luxury Amenities
New Luxury Resorts and premium amenities are comming to this precious destinations like Vidanta East Cape a full Grand Luxxe Residence Club, a Four Seasons Resort and a Ritz Carlton.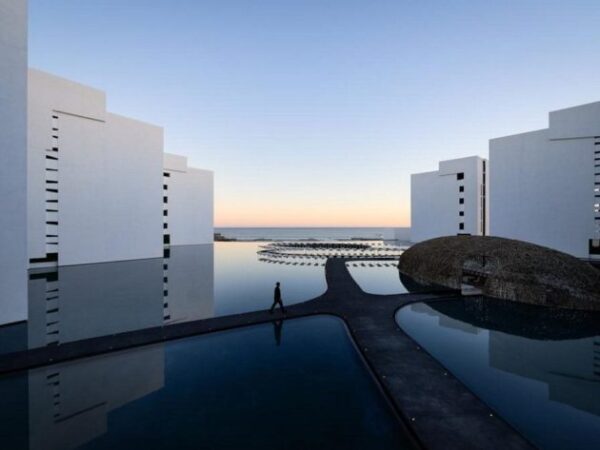 Great amenities such as Omnia Dayclub along with Herringbone Restaurant, SHOREbar and Casa Calavera brought by Hakkasan
at the Vidanta Grand Mayan turning it into a Luxury Boutique Resort like no other.
if you are looking for more than a Hotel or resort, there are more lodging options such as Luxury Villas, Houses, and Condo rentals.
Here you will find some options of what to do, or things you can not miss in your visit to Cabo, we try to have a small guide of top places Cabo has to offer.
Budget Travel
Find Vacation Hotels deals specially made for you, try the best all inclusive resorts in Cabo San Lucas, the best Cabo Resorts for Families
are waiting for you, check where to stay in your travel to Cabo.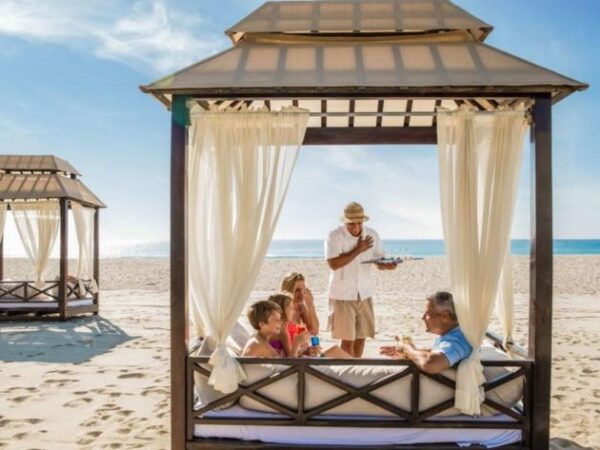 Many honeymoon and weddings are celebrated in Cabo Resorts on the beach, you can host a unforgettable experience
so check the great packages hotels offer, they will be more than happy to help you.
Best time to Travel Baja
Not sure what yo see in your next visit? check or things to do, and Attractions sections and find some of the most popular spots you should not miss.
Want to own a piece of paradise, Real Estate options in Todos Santos, Cabos San Lucas, San Jose and also Cabo del Este (the East Cape)
are available to make your visit and extended stay.
Visiting Cabo San Lucas and it´s surroundings never been easyer, lot flights connects from many major city airports in the US making
Cabo San Lucas the biggest tourism deal for it´s tourist attractions and great weather year round.
Most Popular in Los Cabos Baja California
There are a few places that are having so much attention in this place, and they worth the mention, some are popular,
some are new or renovated, but certainly are some places to have a very good time.
Like the Happy Ending Cabo San Lucas Bar, a place you should pay a visit while in town, doesn´t matter you are a tourist or just a
local looking to have some fun in a place with happy endings.
A great place between locals outside from the beathen path is Chiltepinos Patio where a cold beer, great food and nice music awaits.
The place where you can enjoy a very good time whatching the latest flicks is Cinemex Cabo San Lucas specially with the Platino section the cool place where you can have some wine or beer along with the Movie and some other premium snacks.
And when it comes to party, good time in a chic modern place the ME by Melia Cabo San Lucas on Medano Beach with the great Me Cabo Pool Party from the great All inclusive Party Resorts.
is one of the best options and it has the famous and great Marlin Ibiza beach club with great music, nice drinks and food.
There are more to come… keep tuned our Travel Guide!