Puerto Los Cabos Located on a pristine stretch of coastline along the Sea of Cortez, just east of the San Jose del Cabo estuary, Puerto Los Cabos is a 2,000 acre, master-planned, mixed-use resort community.
Puerto Los Cabos San Jose del Cabo Baja California México
The community encompasses gated residential neighborhoods, hotels, golf courses, a world-class marina with upcoming Marina Village, botanical and sculptural gardens, and the Puerto Los Cabos Club. The Club provides full service access for all homeowners with a complete suite of anticipatory service and unparalleled amenities.
As one of the most established resort destinations in Los Cabos we already have a sizable community. The balance of intimacy, personal connection and genuine relationships with other owners is what allures guests and potential owners and what truly sets us apart. Many of our owners stay for five or six months each season enhancing a sense of place that can only be found here, where time is measured by sunrises and sunsets.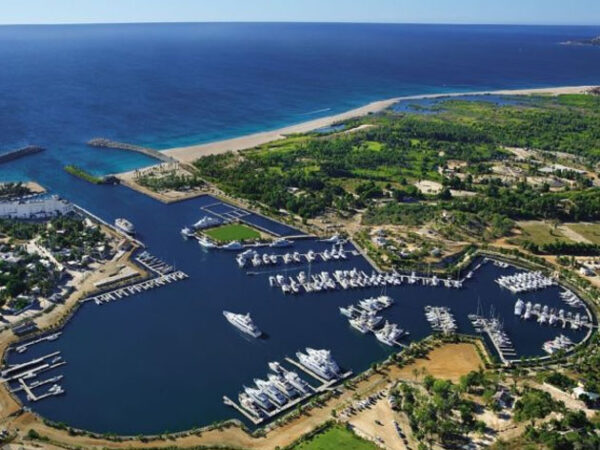 Puerto Los Cabos is only a 20-minute drive from the airport conveniently located just minutes from Flora Farms and Acre restaurant and just 5 minutes from downtown San Jose del Cabo.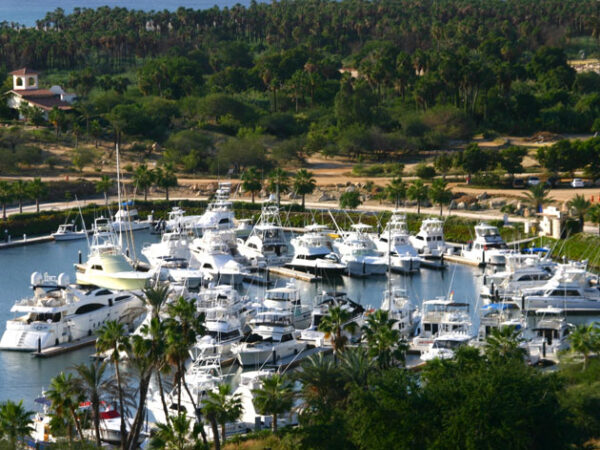 Puerto Los Cabos Marina
Located adjacent to the San Jose estuary and just a couple of miles from historic downtown San Jose del Cabo, Marina Puerto Los Cabos offers a sanctuary for you and your boat. A full service marina with all the amenities, we offer you a laid back experience close to the history and culture of Old Mexico.
As one of the premiere marinas on the entire west coast of Mexico, Marina Puerto Los Cabos currently has 200 slips and accommodates up to 250 foot mega yachts with concierge services, a maintenance yard, and all of the amenities the discerning boater looks for.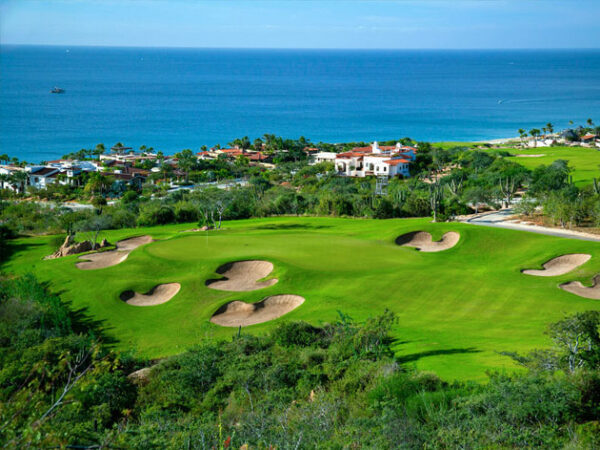 Puerto Los Cabos Golf
Puerto Los Cabos currently features 27 hole destination golf resort. With a newly completed 18 holes of Jack Nicklaus Signature golf, the Marina Course, and an additional 9 holes of Greg Norman Signature golf, the Mission Course, currently open to the public, we offer one of the most unique golf experience is all of Los Cabos with stunning views of the Sea of Cortez from 70% of the golf course. With two comfort stations on each 9 serving food and beverages, you are never more than a couple of holes away from your next taco or margarita.
Tucked within a 2,000-acre master-planned resort community on the East Cape, a short 10-minute drive from the historic downtown area of San Jose del Cabo, Puerto Los Cabos is a 27-hole golf resort, featuring three distinct courses designed by two of the sport's most legendary figures, Greg Norman and Jack Nicklaus.
All three courses are championship layouts, perched above the Sea of Cortez and etched into rolling desert foothills and backdropped by the Sierra de la Laguna Mountains. The views from the course are unparalleled and showcases the rare combination of beautiful desert and pristine coastline, which is only found on the majestic Baja Peninsula.
The Norman Course, a 3,590-yard, par-36 signature design by Greg Norman, has over 400 feet of elevation change. The breathtaking ride begins in the desert foothills and meanders down towards the Sea of Cortez, allowing golfers to enjoy oceanfront golf at its finest, with the crescendo being the beautiful 7th hole. With its large, flashed-faced bunkers used to signpost the fairways and defend the greens, the layout reveals Nor- man's fondness for Australia's classic Sandbelt courses.
The Nicklaus I Course, a 3,758-yard, par-36 signature design by Jack Nicklaus, features rippling fairways, undulating greens and sculpted bunkers. Known as the original back nine, the Nicklaus I Course also begins in the foothills, offering unique views of the San Jose del Cabo valley, before heading down to the Sea of Cortez, highlighted by the breathtaking oceanfront holes, the 5th and 6th, which are naturally carved into the shoreline.
The Nicklaus II Course, a 3,436-yard par-36 signature design by Jack Nicklaus, is the newest addition to the Golf Club. Opened in April 2018, the new nine emulates the original Nicklaus I Course design style and has quickly become a favorite. Subtly contoured greens, large sculpted bunkers and dramatic elevation changes mark the new additions. The course begins with a links-style opening hole, playing towards the Sea of Cortez and framed by sand dunes in the distance. The picturesque closing stretch – holes 6 through 9 – ascends to higher ground and has been the talk of the Golf Club since it has opened, showcasing some of the most dramatic views found on property.
Amazingly, all of the 27 holes at Puerto Los Cabos offer expansive panoramic views of the coastline and Sea of Cortez.
With the addition of the new nine, Puerto Los Cabos will now offer golfers three unique 18-hole combinations making the Golf Club an absolute "must-play" when visiting Los Cabos.
As an added amenity (included in green fee), each course has a culinary palapa, staffed with a bartender and chef, serving a full range of local cuisine and ice-cold beverages to make your experience at Puerto Los Cabos unforgettable!
Source: puertoloscabos.com