Find the Best Todos Santos Lodging for your Vacations
Welcome to our selection of the Best Hotels in Todos Santos Baja Sur, a magical place in Los Cabos denominated as a Pueblo Magico, here find great accommodations for your vacations.
Best Hotels in Todos Santos Los Cabos Baja California Sur
This beautiful town in Los Cabos, is one of the denaminated "Pueblo Magico", or "Magical Town", and is one of the best attractions in the tip of the Baja Peninsula, many people loves to come just straight to this location, they preffer this location over Cabo San Lucas and San Jose del Cabo.
They fell in love with the charm of this small location, and as many that love to comeback year by year, they have their own favorite lodges, there are no big Resort developments, most of them are small Todos Santos Lodging like boutique hotels, bed and breakfasts, Villas and the always so popular vacation rentals, from small apartments to condos, nice villas and houses, all of them with their own charm and flavor.
Todos Santos Lodging near town in BCS
Located around town, most of them are convenientelly located close to most popular locations, while some other are located close or just outside town, you will see some great spots all around with their own beauty of the surroundings.
Best Todos Santos Boutique Hotels and Luxury Accommodations by the Beach
Most of the visitors comes during the winter season, as many like to flight south from their snowing places, which i think is nice, but as they say, too cold is too much, they preffer the warm weather down here in Baja, some of them love the lifestyle in this little town, and they decide to stay more permantely, can't blame them, it is nice there.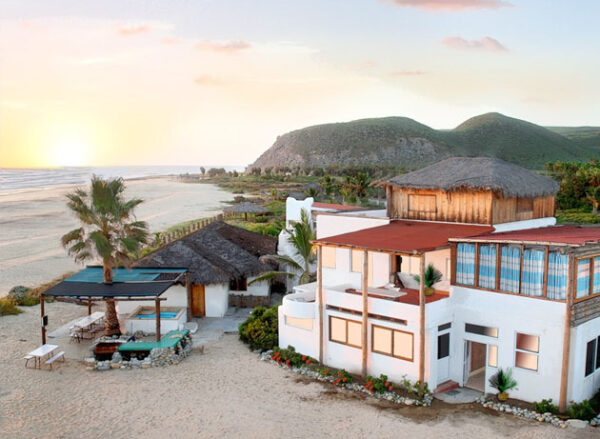 So take your time ahead when looki g for the best time to book, like time in advance, location and rates that sometimes change from season to season.
Find and Book Hotels in Todos Santos Baja California Sur
The best way to enjoy this Pueblo Magico, it is not just to visit and see it, but living it, come for a few days and look why this locations is so popular, take your time to become a local, and enjoy this place just like if your were living for years, walk down the galeries and share your stories whit other visitors, they will be happy to sheer theirs.
You may like this: