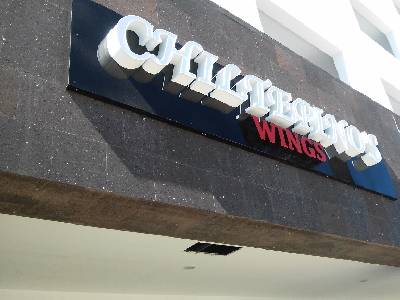 |
A great concept where family and friends can spen a great time enjoying an excellent service Chiltepinos Cabo San Lucas at Plaza Pioneros , an American Restaurant and Sports Bars style.
Welcome to Chiltepinos Cabo San Lucas at Plaza Pioneros Los Cabos.
A great place to start your party, meet your friends, have a cold cerveza, enjoy a great hamburguer or try their delicious wings.
Right in the way a few blocks of the famous Medano Beach where you can start or take a break from the party.
Whatever the reason, is a great option to spend a few hours of your day with your family and friends.
Plaza Pioneros Cabo San Lucas
Located in the downtown area of Cabo San Lucas in Plaza Pioneros, wich have been recen/travel-guides/cabo-san-lucas/tly renovated, and putting this place as one of the new additions.
Convenientely located, with it´s own parking space and access to the main streets of Downtown Cabo,
can´t beat an easier location to enjoy the whole Chiltepinos Menu.
Chiltepinos Wings Los Cabos Menu
Where the main attractions are their chicken wings with their own 8 kind of sauces to choose from as well as a vas menu, i do personally preffer it´s burguers, a great and wide variety to choose from.
More than 12 years of experience in the market put this brand as one of the most outstanding brands in the entire country,
enhancing everytime it´s brand name with the great ambiance, excellent service and great products.
Family and friends in mind can enjoy of a great time having and excellent service at Chiltepinos Medano.
With a sports bar style like bar quality and great cutomer service meets bringing their great dishes whits it´s great quality.
You can con almost anywhere in the country and enjoy from our great service, we have presence in major cities.
Chiltepinos San Jose del Cabo
You can enjoy the same and great atmosphere in one of our branch in Los Cabos San Jose del Cabo, In the Hotel Zone in front of Royal Decameron Resort.