|
The brand new Caesars Palace Los Cabos Resort will mark one more step in the luxury resorts in San Jose del Cabo, the relaxed side of Los Cabos Mexico, a brand new non-gaming beach front Accommodation in Puerto Los Cabos Marina with two signature Golf Courses at hand.
Caesars Palace Los Cabos Resort in San Jose del Cabo Los Cabos Mexico
A great development of a $200 million luxury beachfront resort, a non gaming Hotel that will have some of the best features in the destination like fine dining Restaurants, top of the line spa services, and of course great amenities that are a must in this Resort destination such as pools, cabanas, gym, tennis courts and access to signature Golf courses.
Will count with 500 Rooms and Suites in a luxurious enviroment, that will host their visitors in an ambient of exclusivity.
It is a reflect of what is currently happen in Los Cabos with the increasing numbers of accommodations, but the attention that have captured to new markets.
Located at Puerto Los Cabos Marina Caesars Palace Los Cabos
Right in the San Jose Marina, a few miles from the downtown area, where most of the city attractions like art galleries, fine dinning restaurants and bars are located.
Puerto Los Cabos have become a great point of start for many luxury accommodations in the destination of the Baja Peninsula.
Setting this Resort in a surrounded enviroment of natural attractions, beautiful beaches, beautiful sunrises and sunsets in a calm and relaxed enviroment.
Luxury and Exclusivity at Caesars Palace Cabo
It will start it's construction in early 2019, along with other projects in the destination, that will contribute to the growing number of luxury Resorts on this side of Los Cabos, from San Jose del Cabo to the East Cape.
While Cabo San Lucas remains as the most popular spot in Los Cabos, the middle and east side of Baja, are betting into becoming the luxurious and exclusive side away from the crowds.
Caesars Palace Resort in Cabo San Lucas sister town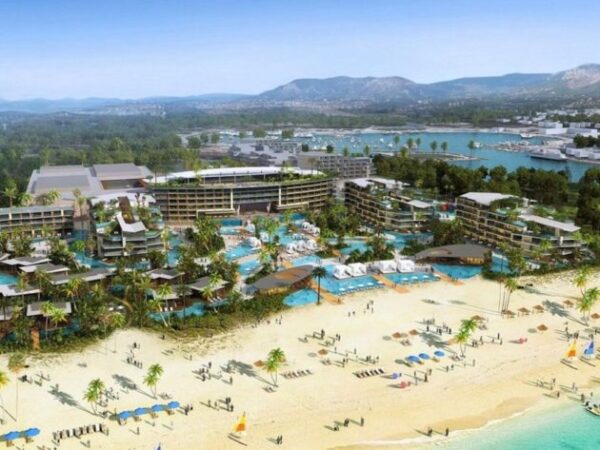 Without a doubt Los Cabos still growing in the direction of not just becoming one of the most popular destinations in the country, but one of the most exclusive and luxurious.
The construction of this new luxury resort in Los Cabos will bring great attention to the people who come to Cabo San Lucas to vacation, given that they have the conception that this place is a place of celebration
and entertainment, which is true, but an even better room was found in San Jose del Cabo right next to Puerto Los Cabos, what is the newest Marina in the area and many new projects are building around it giving a touch of freshness and exclusivity to the area.
So the next time you want to take a vacation or a break in Cabo, you can think about staying in this Luxurious Resort of this chain which is reputed to be a place of entertainment and quality and luxury.
2 Signature Golf Courses in Puerto Los Cabos
This Resort will be built by the group Questro, which for those who do not know is a company
that has developed locally many of the projects that are currently counted in Los Cabos of Great popularity, from the Resort golf courses and even the Marina itself. Puerto Los Cabos, and many other developments all from Cabo San Lucas, to San Jose del Cabo, and the tourist corridor that extends between them, so let's wait and see what surprise it will bring us in the future.
Caesars Palace Kid Friendly in Los Cabos Mexico
The strategy of this company the Caesars Palace in Puerto Los Cabos, is part of the strategy of the
company to develop more businesses that are not related to gambling, with which these concepts are more friendly with families.
maintaining its high quality of luxury will have many amenities and attractions and activities within the same Resort with a 5-star quality according to the destination Where it is developed.
This is the first project developed in Mexico and what better place than in Puerto Los Cabos in Baja California Sur, a destination that is still in vogue and is constantly growing Especially with luxury tourism, bringing these new ventures with a brand that It is recognized worldwide and its visitors will know that they can find the same quality to which they are accustomed in this chain.
It will be interesting now to get on your yacht to vacation in Los Cabos and stay at a Caesar Palace, new and better options are appearing here in the destination, which promises that now and in the future
Los Cabos is pointing to a new direction that will generate a lot of opportunities for this great destination What is Los Cabos, and will be able to position itself if it is not there as one of the best places in the world to vacation and invest.
Caesars Palace at Puerto Los Cabos Map