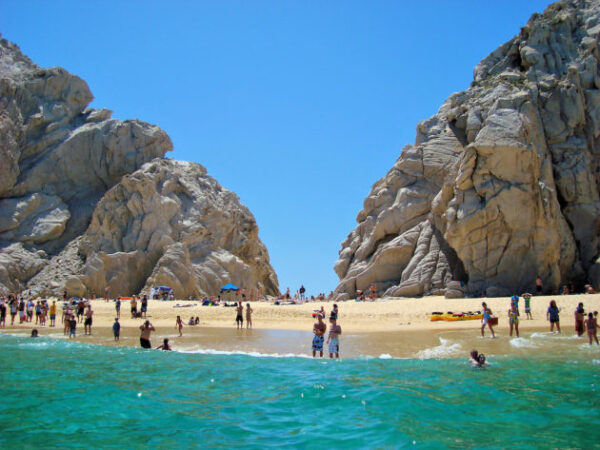 Beaches
Cabo San Lucas Lovers Beach
|
The Cabo San Lucas Lovers Beach is one of the
Most beauty and visited beaches in Los Cabos Mexico
Looks like it has a character of it's own, sometimes is hard to get to it
While other times is really an easy and joyful ride.
This small beach have been part of many events celebrated in that place.
Featured in many tv shows and famous fashion and travel magazines.
It is a beautiful beach that connects the Sea of Cortez with the Pacific Ocean.
Cabo San Lucas Lovers Beach
Right in the middle of both sides, where it separates
Is the Divorce Beach, with very strong Pacific Ocean waves crashing.
Not reccommended for swimming but still very beautiful to watch.
And enjoy the scenary at the place.
This small beach is located just behind of the iconic Los Cabos Arch
And anothet pile of rocks forming a trench of sand in between.
The easiest way to reach it is thru a boat tour or a water taxi.
Depending on the sea conditions, you may find a little difficult to land.
Boat will drop you right at the shore in the crashing waves.
There is no dock to arrive so you may get a little wet.
But it worths the splash…
There a time of the year, in every 3 to 4 year period where a bigger base of sands
Forms around the arch and it is really easy to get and walk around.
If you are taking a water taxi, they will drop you at the beach.
And can be arrange to pick you a few hours later.
Also the boat tours will leave and come back a few hours later.
The other way is by climbing some big rocks, it will require some
Phisical effort from your part with some exercise.
Accesing thru the Solmar Hotel and walking along the beach.
There are no restaurants and bars at the beach, you have to
Bring your own food and beverages,
make shure you bring a plastic bag.
To carry all your trash, there are no trash containers.
Some vendors will carry some small snacks and water and sodas
Bring some cash in case you want to purchase from them.
And this place requires the help of everyone to keep it clean.
Los Cabos Lovers Beach
Every few years, there is no certain date for that.
But sand tends to accumulate all around the arch and connect
To the Lovers Beach, or Playa del Amor by a sand trench you can
Walk around, and even walk down the arch.
That is where most famous pictures of the iconic arch
With people enjoying and walking comes from.
This part of Cabo, remains as part of the Natural Scenaries that remains
Protected, the major natural attraction along with the
Stone Arch, an underwater experience for the scuba divers.
A colony of sea lions between the arch rocks enjoying Cabo.
And some snorkeling spots where you can appreciate
Many kinds of beautiful tropical fish.
This area is popular with the glass bottom boats tours.