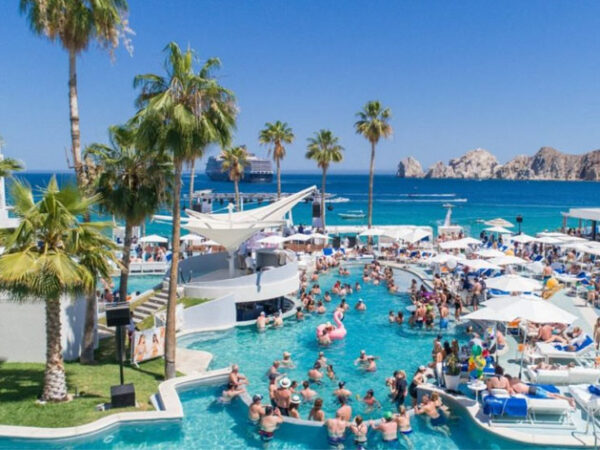 |
Me Cabo Pool Party 2018 at Blue Marlin Ibiza Los Cabos
Located poolside at the chic, Blue Marlin Ibiza Cabo at the newly reopened ME Cabo resort the best Me Cabo Pool Party 2018 in Cabo San Lucas at Medano Beach Los Cabos.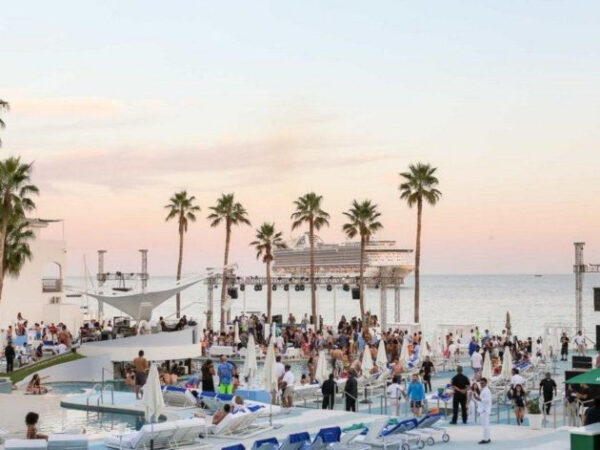 Collection of cosmopolitan beach clubs in trendsetting destinations, from Dubai to Cannes to the original Ibiza setting that has been attracting jetsetters for more than a decade.
Set to launch in November 2016, Blue Marlin Ibiza Los Cabos is staged to become Cabo's latest hotspot.
A multi-concept poolside beach club offering lunch, dinner and cocktails by day, transforming into night with pulsating music from cutting-edge DJs in an avant-garde atmosphere, it is also Blue Marlin Ibiza first location at a hotel.
All inclusive Party Resort in Medano Beach Cabo San Lucas
We are thrilled to bring the spirit of Blue Marlin Ibiza to the Americas at ME Cabo.
The resort and locale offer the perfect blend of sun, sea and international travelers looking for a world-class nightlife experience, said Mattia Ulivieri, Managing Director for Blue Marlin Ibiza Group.
To get a taste of what's to come, Blue Marlin Ibiza Los Cabos will host a monthly series of themed "Pop YOU Up" parties, which will highlight the atmosphere and caliber of DJs that Cabo socialites can come to expect once the club officially opens doors in the fall.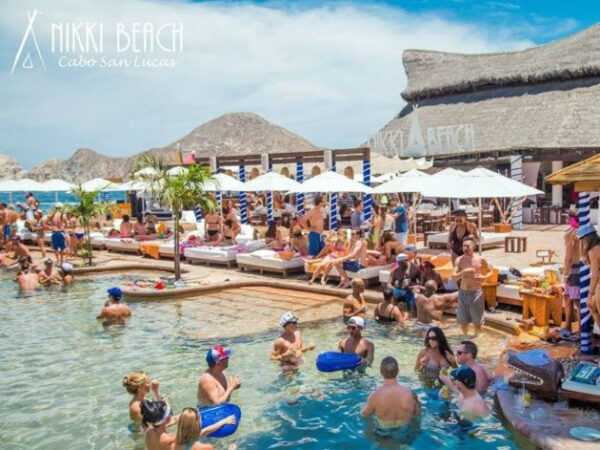 Once the place for Nikki Beach at Medano Beach
Designed by 3.14 Design Studio, the space is located on the beachfront adjacent to the hotel's pool and newly re-tiled deck, where a vibrant blue and white color scheme and contemporary white furnishings create a breezy resort atmosphere.
Outdoor seating accommodates up to 500 guests for dining al fresco day and night, while inside lounge style seating for 200 will be available.
Come sundown, the interior is transformed into a nightclub featuring over 5,000 square feet of dancefloor space and state-of-the-art sound and lighting, offering everything a top DJ or reveler could ask for.
Me Cabo Pool Party 2018 at Blue Marlin Ibiza Cabo Hotel
"The addition of Blue Marlin Ibiza Cabo at ME Cabo signifies our commitment to bringing the world's best experiences to our guests," said Alvaro Tejeda, Regional Vice President of The Americas for Meliá Hotels International.
A new concept in the matter of party resorts have been released in Los Cabos, turning this little party beach destination into and very cosmopolitan resort destination, that rivals places in any other places of the world.
New party spots appear from investors betting to Cabo as a great party scene, with many great brands from some of the most popular and  exclusive places like Vegas, Ibiza and Dubai.
Blue Marlin Ibiza Los Cabos Map