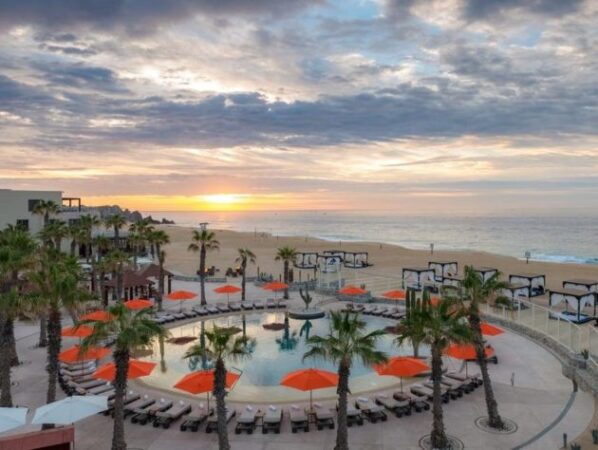 resorts
Best Resorts in Cabo San Lucas for couples and singles in Los Cabos Mexico
|
Find the Best Resorts in Cabo San Lucas for couples and singles for your vacations in Los Cabos Mexico.
Great Resorts like adult only with All inclusive plans in party resorts and luxury places for couples.
Come with your loved one and have this great time in Baja California.
Best Resorts in Cabo San Lucas for couples and Singles
Yes you want some great vacations in Los Cabos Mexico with your loved one, and you want to make shure you are going to stay in the perfect accommodation for both of you.
Cabo was conceived as a calm Resort destination south of the border at the end of the Baja Peninsula.
So it is a great place for families and retired people that want to relax in the always sunny baja.
But it have evolved not just into a family place, but a party Resort destination.
There are still Resorts great for families, but new adults only Resorts have apeared, and those are great places for couples and singles.
With all kind of ammenities with the contemporary adult in mind.
Great Luxury Resorts for Couples in Cabo San Lucas Mexico
Cabo San Lucas stills has the perception of a great party town, along with the beach and all the surroundings.
While San Jose del Cabo remains as a calm place, great for relaxing.
That is why some of the best Resorts for singles and couples, are located here. Mostly like party Resorts with great bars, beachclubs and Restaurants.
And host some special events, like concerts and special performances and festivals in their location.
But, don't think that San Jose del Cabo doesn't want that part or the market.
There are some new Resorts with the adults only in mind. In a more relaxed enviroment, not a crazy party place.
Just as a place to enjoy some luxurious accommodations in total tranquility.
Best time for a couples getaway
Anytime you feel that you need or want some vacations in a sunny beach, in a great and cool location.
Well this is your great choice, you will find the perfect amenities in this locations just ready for you, and of course, the best weather year round.
Best All Inclusive Party Resorts in Cabo San Lucas for Couples
Cabo is by now, one of the best locations for a great vacations for couples and singles. Along with some other exotic Resort destinations in the world.
But new and better accommodations have been apperaring in Los Cabos Mexico.
Which is setting not just as a family resort destination, but a luxurious resort destination, with worldclass services and amenities.